Nano Misbehaves in School/Grounded is a deleted Nano Gets Grounded episode made by NOONEWASHERE.
Episode Deletion
Edit
Somewhere on the autumn of 2019, the episode got removed. It featured toilet humor (a poop), and 2 swear words. The exact reason why the episode could be removed is unknown. One of the reasons is toilet humor and 2 swear words. The episode had 2 swear words. One is short and fully censored, and second is the N word and it is partially uncensored.
Although this episode was made to express humor, it got still removed, although the message that this episode was going to offend someone was in the instructions.
At the part where 
Nano
 is sent to the principal's (
Tera's
) office, Tera reveals Nano's swear word.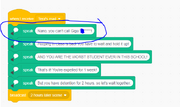 Nano swears to Giga and poops in class, causing him 2 hours detention.
Full Story
Edit
The episode begins with Giga, Nano, Scratch Cat and Gobo. Giga asks Gobo what is 2 + 2, and Gobo answers that it is 4. Nano then asks Giga for permission to go to the bathroom, and Giga explains a little to Nano. Nano gets so angry, that he even swears at Giga. Giga gets mad at Nano and tells him to go to the principal's office, but Nano poops on the floor. Giga gets so mad, that she sends him to the principal's office. Tera meets Nano in her office and asks why Nano is here, and Nano replies that he swore at the teacher and pooped on the floor in the classroom. He tells her that he said the N word (but partially uncensored). Tera expels Nano for 1 week and gives him detention for 2 hours. After 2 hours, Nano is sent home and gets grounded by his father.
This gallery contains currently available assets for the project.
The asset with Scratch Cat and Gobo is actually taken from this project.
Community content is available under
CC-BY-SA
unless otherwise noted.